News
News News Company Test Systems Software Webinars Meetings
Webinar: The Power of Flying Probe Test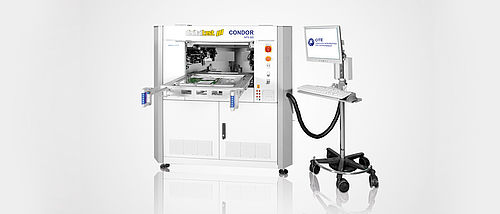 We would like to invite you to our free webinars on Tues. 28th March or Wed. 29th of March and learn how you can create your own "one-stop strategy" with our universal Flying Prober, which can be used for analog, functional, boundary scan, (flash) programming and LED tests.
We are introducing to our newest Condor Flying Probe is now using 64-bit technology, which means it is compatible with the newest technology on the market. Our flying probe can be used universally for all test strategies: both in series production as well as in-line system, for testing prototypes in small series with manual loading or for functional tests.
It offers a test platform that can map all tests, from simple in circuit tests and functional tests to Boundary Scan, Power Up and Flash Programming in one single system. With its one-stop test strategy, all tests in production can therefore be tested at a single test station. Through a suitable fixture concept from Digitaltest, both test depth and throughput can be increased. This results in much higher test coverage - and all without additional costs for equipment.
We will demonstrate you how our Condor Flying Probe differs from other Flying Probes on the market and what makes ours so special.
Registration - Tuesday, 28th March 2023 at 9:30 am - 10:30 am CEST
Registrierung - Mittwoch 29.03.2023 um 15:30 am - 16:30 am CEST