News
News Press Company Test Systems Events Exhibitions
APEX 2023: Digitaltest Combines Strengths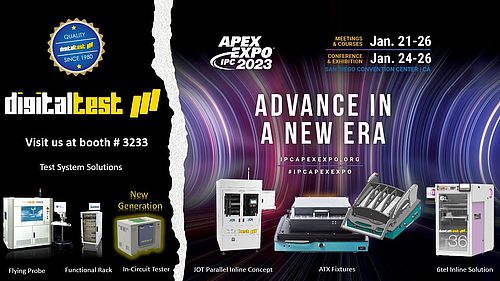 As one of the leading providers of flying probe, in-circuit test system, Digitaltest is presenting test solutions for electronics manufacturers at booth #3233, IPC APEX EXPO in San Diego, California on 24-26 January 2023.

Our experts present to you our newest technologies and developments of test equipment. We will demonstrate to you why our flying probe is the most advanced and reliable in the market and demonstrate you our New Generation of Test System MTS-4 300 SIGMA.
In addition, Digitaltest will join forces with their leading fixture supplier ATX Hardware, providing high end fixture solutions, JOT Automation with a parallel inline concept and 6TL Engineering for modular In-line solutions.
Condor Flying Prober now with 64-bit technology
The newest Condor Flying Probe is now using 64-bit technology, which means it is compatible with the newest technology on the market. The color camera of the Condor Flying probe has new features such as barcode scanner and optical character recognition (OCR). and our flying probe can be used universally for all test strategies: both in series production as well as in-line system, for testing prototypes in small series with manual loading or for functional tests. It offers a test platform that can map all tests, from simple circuit tests and functional tests to Boundary Scan, Power Up and Flash Programming in one single system. With its one-stop test strategy, all tests in production can therefore be tested at a single test station. Through a suitable fixture concept from Digitaltest, both test depth and throughput can be increased. This results in much higher test coverage - and all without additional costs for equipment, production area and staff.
New Generation MTS-4 300 Sigma
Digitaltest introduces their new generation of test systems MTS-4 with their ultimate all-round system the Sigma. The new line has advanced hardware and uses the newest technologies and easy to use interface software CITE 10. The main idea of the new generation is to make it as easy as possible for the operator to use the system. with easy access for exchange of modules with Zero downtime. The new Generation of Test System MTS-4 300 SIGMA has a drawer that opens the complete rack can be pulled out and the system can be upgraded within moments without touching the fixture.
Digitaltest joins forces with ATX Hardware
Digitaltest works closely with its long-term partner ATX Hardware which provides high end fixture solutions. Digitaltest produces fixtures in their own fixture house, often using ATX hardware and fixture kits. For highly complex and special fixtures we work directly with ATX Hardware. ATX is Europe's market leader in the manufacture of test fixtures for electronic test procedures. As a specialized solution provider, the company designs and produces customer-specific products in semi-automated individual and small series production. Most of the devices are precision-engineered one-offs with varying degrees of complexity. At our booth the newest fixtures will be displayed on our test systems and ATX experts are ready to show their different technologies.
New, flexible Inline Concept- JOT-DT M5 Sparrow Inline
Visit our booth and check out our new flexible inline concept that we have created together with JOT Automation. A new affordable inline concept that not only saves space and time but also covers all different tests: In-circuit test, functional test, programming etc. and this in parallel, guarantees highest flexibility and throughput. Our experts from JOT will be glad to give you a demonstration of the system and how it works.
Modular Inline Test system from 6TL Engineering and Digitaltest
Our partner 6TL Engineering will present their 6TL 36 test handler with Digitaltest's Sparrow MTS 30 test system integrated. 6TL handlers are truly modular, scalable, flexible, and together with our systems such as the smallest system with 1152 pins they make a compact but powerful Inline test system. This flexibility and scalability give us the option to integrate even our medium system Sigma MTS 300 with up to 3456 pins if required. Please do not miss seeing the inline capabilities and our 6TL experts will be happy to show them to you.
Visit the test experts from Digitaltest at booth # 3233 and find out more about the various test options, repair solutions and test service.
Using Promo Code: DTINVIT Register Here