Application and Fixture Service
Are you testing printed circuit boards on Digitaltest test systems but want to hand creation of your test programs and development of suitable fixtures to the experts? Then our application support is exactly what you need.
Our experienced engineers will create individual, custom-tailored test programs and build just the right fixtures at a surprisingly low cost. We would also be happy as part of our expanded fixture services to use a company of your choice for complete handling of the fixture building process. We have worked closely with test fixture designers and builders such as Everett Charles, ATX, Ingun, GTS and Leitec.
Application Service
On-site test program development and installation
Creation of customized reports (test coverage, testability, accessibility, etc.)
Production of inexpensive fixtures
Extended fixture service with the fixture manufacturer of your choice
Conversion of readable test programs to current Digitaltest systems
Creation of interface converters for further use of existing fixtures
Manufactures PCB Carriers for Flying Probe Test
Convert existing test programs and fixtures
Are you using obsolete, unsupported test systems and need to replace them or move production? Save time and money by converting your old test programs and fixtures to our up-to-date Digitaltest test systems. We ensure that your existing test fixtures can still be used while converting your test programs. We offer this service for all outdated Digitaltest systems and third-party systems from numerous companies like GenRad, Teradyne, Keysight/Agilent (HP), Schlumberger, Marconi, Rohde & Schwarz or Tescon.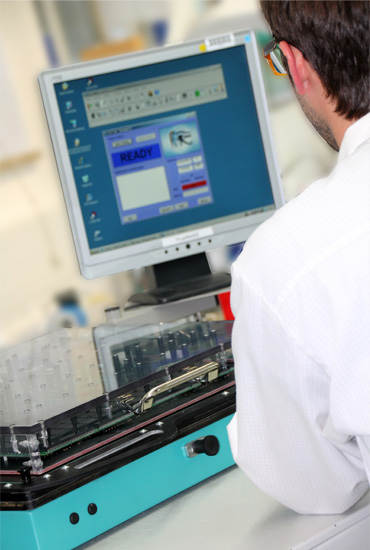 Fixture Service
We are preparing more and more Digitaltest applications and one of the problems for us and the customers are the long waiting times for building the fixtures. This is why, we decided to offer our customers Digitaltest In-house Fixture services.
Precision with professional mechanical designing and machining tools
Excellent Engineering with experienced mechatronic engineers
Fixture Design Verification with the client
Analysis with fixture stress and strain analysis reports
Transparency with complete documentation and BOM reports
Quality assurance with fixtures being pre-checked on the matching test system
Precision
We can provide a high level of precision of 20 µm with the newest mechanical and machining tools available. In addition, a new CNC milling machine has been acquired to provide precision.
Excellent Engineering
We have highly qualified and experienced mechatronics engineers, who have had extensive training on the milling machine in cooperation with a university work-study program.
Fixture Design Verification
Before building the fixture, the design conception of the fixture is being presented to the client to make sure the design is preapproved.
PCB Analysis
We provide fixture stress and strain analysis to our clients to ensure board safety and accurate test stability.
Transparency
We offer a complete detailed report about fixture documentation and BOM report. In the future, this can be referred to, when performing board layout changes.
Quality Assurance
All our fixtures are pre-checked on the matching Digitaltest test system, before delivering them. This is a main advantage to other fixtures houses.
Fixture Types
Sigma vacuum fixture
Sparrow mechanical fixtures
Eagle pneumatic press fixture
Condor Fixtures
Multi Level Fixture ( incl. Condor: fixture lift mechanism)
Two-stage device for the Condor Flying Prober with a lifting mechanism allowing the user to contact the same device in different ways
Inline fixture (completely debugged, ready for testing)
Additional Fixture Features
Pneumatics
FEASA (LED Analyzing)
Relay Boards
Barcode Scanners
Manual push rods
Special pushes
Push plate
Top probing
Side probing
Universal PCB Carrier
Customized PCB Carriers
We manufacture individual carriers for printed circuit boards that have a clamping edge of less than 3 mm or an irregular shape for you. They ensure easy insertion and removal of the board and ensure that the board remains securely in position during testing.
Universal PCB Carrier
Would you like to stay flexible? The Universal PCB Carrier is equally suitable for a wide range of PCB sizes. The universal setting options and above all the simple configuration save storage costs and costs for the creation of new carriers.

Click here for more information about the Universal PCB Carrier: