News
News Company Software
C-LINK with new JTN 2.0 from JTAG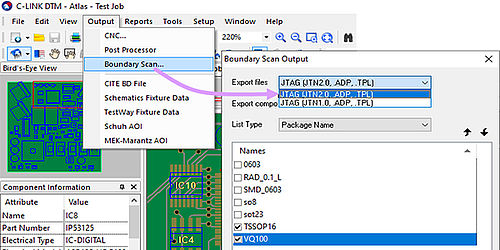 JTAG's Boundary-Scan test method has been integrated into Digitaltest's MTS Series In-Circuit Test Systems successfully for a while, but now, the netlist format JTN is being updated.
An optimal test strategy with maximum test coverage at low cost: What was not possible in the past is now standard due to the Boundary Scan extension for In-Circuit (ICT) and functional tests for MTS systems from Digitaltest, such as the Condor Flying Prober. How does it work? Through a combined Digitaltest Symphony solution, the digital parts of an assembly are tested with JTAG Technologies Boundary Scan tools. These are already integrated in the Digitaltest In-Circuit or Functional Testers. Hybrid pins can thus be controlled and synchronized directly in the Boundary Scan test. Among other things, this reduces test development and run-through times while maximizing test coverage.
The new JTN 2.0 format from JTAG
The Digitaltest CAD/CAM software C-LINK DTM converts the CAD data into the netlist format JTN from JTAG. This format is characterized by easy readability and clear presentation. In addition, it can be edited quickly and easily if manual adjustments are necessary.
With the new JTN 2.0, the range of functions is being further developed, creating even more flexibility: Part and net names can now contain special signs and the length restriction has also been extended. For understanding: Different EDA tools have different restrictions regarding special signs. In the past, if signs not allowed by JTN were included, the net names had to be adapted in each case. In the case of Digitaltest this resulted in a new read-in to C-LINK. With JTN 2.0 this is now circumvented: Since the names are now placed inside the quotes by the quotation marks, they can also be taken over completely.
Digitaltest's C-LINK is the first CAD/CAM solution on the market that supports the actual JTN 2.0 format and thus generates the optimal export for the new ProVision 2020 Boundary Scan development software from JTAG Technologies.