News
News News Press Company Test Systems Software Other Events Seminars Webinars Exhibitions Meetings
Digitaltest at the Electronics& Applications Show 2023 in Utrecht, Netherlands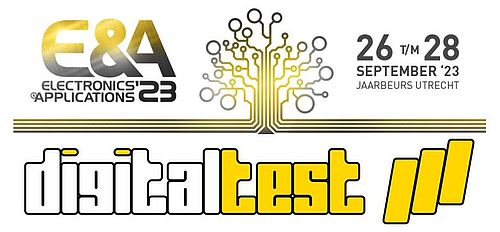 As one of the leading providers of flying probe, in-circuit, functional test, and production software solutions, Digitaltest will present at Electronics & Applications 2023, in Jaarbeurs, Utrecht, Netherlands from 26 to 28 September 2023 at booth 7C130.
We will be exhibiting with our Scandinavian partner C.N. Rood, one of the largest suppliers of test and measurement instruments in Belgium, the Netherlands and Luxembourg. Its wide range of solutions extends from communications, video/CATV test equipment and general test and measurement equipment to automatic identification products, combined with consulting, training and turnkey solutions.
Our experts will showcase our Digitaltest Sparrow MTS 30Lambda test system, which can test multiple boards in parallel and can reduce test time enormously. With this technology you can test multiple boards or panels at the same time, thereby optimizing the cycle times and shortening the test time or performing the tests using the shortest path. An ICT or functional test can be performed by two or more independent test heads, reducing the test time by the corresponding factor.This applies to panels as well as for multiple independent single boards.
In addition, Digitaltest introduces ECO on the Fly, a new concept on how to continue testing printed circuit boards during times of supply chain interruptions and necessary board design changes caused by obsolescence of components.
Supply chain disruptions, delivery stops, and obsolescence of products are causing major problems for many electronics manufacturers and EMS providers. Due to component bottlenecks or discontinuations, layouts and circuits must be constantly adapted. Existing test programs and test fixtures are modified and, in some cases, newly created. Both causes unnecessarily high costs. In our webinar, we present our ECO on the Fly concept to react to these challenges quickly and economically by combining in-circuit testing with flying probe testing in a useful way and how maximum flexibility can be derived from such a combination.
Learn how you can cope with obsolescence and disruptions in the supply chain of electronic components during testing in our presentation on Wednesday, 27th of September from 10:20 am -10:45 am: ECO on the Fly- Fight against obsolete components and Economic Change Orders
Visit us at booth 7C130 on Electronics & Applications 2023, in Jaarbeurs, Utrecht, Netherlands from 26 - 28 September 2023to learn more about Digitaltest' various testing strategies and solutions.
Electronics & Applications 2023
26.-28. September 2023
Jaarbeurs, Utrecht
Netherlands
Booth 7C130