News
News News Press Company Test Systems Software Other Events Seminars Webinars Exhibitions Meetings
Digitaltest at the Productronica 2023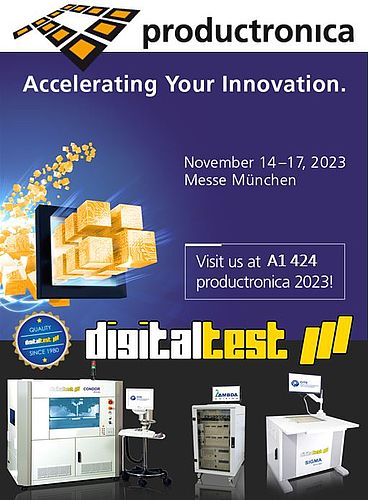 Digitaltest will present test solutions for electronics manufacturers at the Productronica in Munich from January 14th to 17th, 2023, in Hall A1, at booth 424.
Our experts will showcase our latest technologies and developments of test equipment, including our Flying Probe with 64-bit technology. We will also introduce our new generation of test systems, MTS-4 300 Sigma, equipped with advanced hardware and user-friendly interface software CITE 10. Additionally, Digitaltest will present an autonomous test station developed in collaboration with its partners, Brooks Automation and ATX Hardware.
Condor Flying Prober now with 64-bit technology
The newest Condor Flying Probe is now using 64-bit technology, which means it is compatible with the newest technology on the market. The color camera of the Condor Flying probe has new features such as barcode scanner and optical character recognition (OCR) and our flying probe can be used universally for all test strategies: both inline in series production as well as for testing prototypes in small series with manual loading or for functional tests. It offers a test platform that can map all tests, from simple in circuit tests and functional tests to Boundary Scan, Power Up and Flash Programming in one single system. With its one-stop test strategy, all tests in production can therefore be tested at single test station. Through a suitable fixture concept from Digitaltest, both test depth and throughput can be increased. This results in a much higher test coverage - and all without additional costs for equipment, production area and staff.
New Generation MTS-4 300 Sigma
Digitaltest introduces their new generation of test systems MTS-4 with their ultimate all-round system the Sigma. The new line has advanced hardware and uses the newest technologies and easy to use interface software CITE 10. The main idea of the new generation is to make it as easy as possible for the operator to use the system. with easy access for exchange of modules with Zero downtime. The new Generation of Test System MTS-4 300 SIGMA has a drawer that opens the complete rack that can be pulled out and the system can be upgraded within moments without touching the fixture.
Our Partner Project: Autonomous Test Station
In close collaboration with Brooks Automation US LLC and ATX Hardware, Digitaltest has developed an innovative autonomous test station. The system consists of a Digitaltest Sparrow MTS 30 test system installed in a 19-inch rack and placed on a table with an automatically opening and closing ATX adapter. The large opening angle allows for perfect access for the gripper of the Brooks Precise Flex robot. This collaborative robot is ideal for transferring PCBAs and loading/unloading PCBA testers. After testing the PCBs, they are automatically transferred to the magazine. The entire testing process is autonomous and highly efficient, resulting in significant savings in labor costs and time.
Visit us in Hall A1, Booth #424at Productronica 2023 to learn more about Digitaltest' various testing strategies and solutions.
Productronica 2023
14.-17. November 2023
Trade Fair Center Messe Muenchen
Halle A1, Stand 424