News
News Press Company Test Systems Software Other
Innovation in the field of automated test systems joins the most advanced ISP programming solutions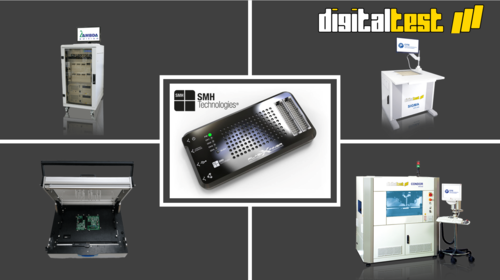 Digitaltest integrates FlashRunner from SMH Technologies into their fixtures, In-Circuit and Flying Probe Test Systems

Digitaltest, one of the leading suppliers of electronic test systems and fixtures, has been successfully using the FlashRunner series from SMH Technologies for its in-circuit test applications for many years. Due to its flexibility, its extensive library and its user-friendly software wizard, it is particularly suitable for programming multi-PCB panels and complex boards.
Flashing at maximum speed
The SMH Flashrunner from our partner pb tec solutions has long been a reliable part of our applications for in-circuit tests. The newest programming technology makes it possible to use Flashrunner 2.0 in combination with an in-circuit test to program up to 16 different components at the same time. This makes it ideal for programming multi-PCB panels and highly structured boards with multiple installed devices. A user-friendly operating interface also makes it possible to create a production-ready program in the shortest possible time.
True parallel testing for the panel test
Digitaltest also provides ideal support for panel testing. Parallel testing with our Lambda edition allows two or more assemblies to be tested at the same time. This optimizes the cycle times and shortens the test time. An in-circuit or function test is performed by two or more independent test heads, which reduces the inspection time by the corresponding factor. This applies to multi-panels as well as multiple individual test objects.
By combining the two technologies, Lambda edition and Flashrunner 2.0, multi-panel boards can be tested and programmed in parallel fully independently on Digitaltest test systems. This saves not only production time, but also wait, inspection and handling times. The seamless integration of both environments with respect to hard- and software also makes it the perfect solution for production systems.
Flash Programming on the Fly
Flash programming is also possible with the Condor Flying Probe from Digitaltest. Four movable test heads, the Flying Probes, can be directly programmed and autonomously controlled from above. This not only saves the costs of manufacturing the fixtures, but also the construction times that are necessarily associated with them are a thing of the past. The FlashRunner 2.0 from SMH Technologies is thus ideally suited for integration into Digitaltest's Condor Flying Probe and offers another way to improve quality while saving time.