News
News News Press Company Test Systems Software Other Events Seminars Webinars Exhibitions Meetings
Modular Automated Test Solutions for All Test & Production Requirements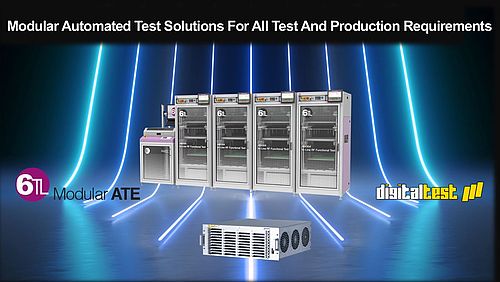 During our webinar on the 10th of October, we will demonstrate the adaptability and scalability of our automated testing solutions, which can be entirely automated to meet all your testing and production requirements. We will present various examples that demonstrate how these solutions can be utilized in different production settings.
Digitaltest is a renowned partner in the electronic industry's testing domain - providing comprehensive solutions that cater to distinct testing requirements options. The company will showcase its versatile range of test systems, featuring its potent 19-inch rack test system. The Lambda variation of this system offers scalability for different testing demands utilizing several test heads and parallel testing.
At the event, Digitaltest will also highlight its Sparrow MTS30 Lambda test system, which can test multiple boards concurrently, drastically reducing testing time. This system optimizes cycle times and minimizes test time by utilizing the shortest path. With the capacity to execute ICT or functional tests with two or more independent test heads, the Sparrow MTS30 Lambda test system proportionally reduces test time, making it suitable for testing several independent single boards or panels.
Moreover, 6TL Engineering, Digitaltest's partner, will exhibit their small footprint, fully automated handlers, which can be added modularly. 6TL was an early adopter of modularity in the design of Automated Test Equipment for electronics products, with FastATE technology as the central element for creating turn-key solutions that are genuinely modular, scalable, and flexible - easing the job of test engineers and budget managers.
Teaming up the potent Digitaltest system with the agile ATE of 6TL Engineering results in a unique, modular, and highly flexible system.
Date

Time

Registration

10. Oct., 2023

10:00 am – 11:00 am CET

04:00 am – 5:00 am EDT

10. Oct., 2023

03:00 pm – 04:00 pm CET

09:00 am – 10:00 am EDT