News
News Test Systems
Universal PCB Carrier for Condor Flying Probe: One fits all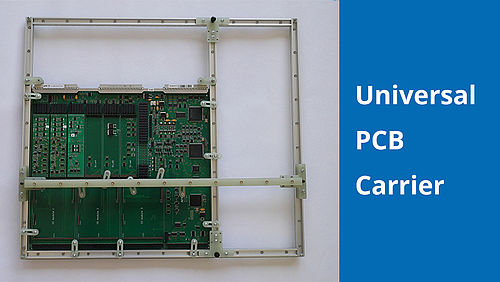 Together with our fixture house in Egypt we developed our Universal PCB Carrier. This new Carrier System can be used for a wide range of PCB sizes and shapes.
The status quo:
If electronic PCBs have a clamping edge of less than 3 mm or have an irregular shape, printed circuit board PCB carriers are usually the fastest and easiest solution. These frames are individually manufactured for the respective PCB and allow the best possible testing on the Condor Flying Probe Tester. The carrier ensures easy insertion and removal of the platine and also makes sure, that the platine maintains its position securely during testing. With this quickly deployable board handling system, PCBs can be easily tested in front loader as well as in in-line operation with a flying prober. This method has proven itself: We have been using carriers from our own production for a long time and have already developed individual frames for PCB carriers for many different types of electronic assemblies.
The challenge:
However, it cannot be denied that this method also has certain disadvantages. For each board that is to be tested on the flying probe, an individual PCB carrier must be manufactured. The production is associated with costs and sufficient time must be planned for the production, which in turn can delay the complete test process. In addition to the general technological progress, the constantly increasing variability is another challenge. Short-term orders, frequent layout changes, small batch sizes and irregularly shaped PCB contours require flexible production processes. If it were not practical if you had a universal carrier that would be suitable for all PCB shapes and sizes? One carrier for all different PCBs? One for all?
Our solution:
Together with our fixture house in Egypt, we have worked on a high-quality and uncomplicated solution and with our new Universal PCB Carrier we have developed a carrier system, that can be used equally for a wide range of PCB sizes and thicknesses. The Universal PCB Carrier's universal setting options and especially its simple configuration make it the ideal product for all customers, who use our Condor Flying Probers and would like to save the costs of creating new carriers.
The handling is very simple. The circuit board to be tested is mounted by horizontal and vertical holders with sliding mechanism, the so-called hold-down devices ("push fingers"), fixed and fastened in the board. The holders themselves are size adjustable and can be adjusted for boards of different shapes and sizes. In addition, the fragile circuit boards are so well fastened that no additional support pushes are required from the bottomside. The principle of one for all applies here: The flexibility of our carrier system allows adaptation to the respective board shape within seconds, so that the time required between the test procedures is reduced to a minimum. Due to the universal setting options and the possibility of adaptation to the respective shape, the sometimes high costs and long waiting times associated with the creation of individual carriers for testing, belong to the past. The test phase is not unnecessarily interrupted and can be continued promptly. Even short-term layout changes, a common process in this early development stage, are possible at any time without the need for a separate carrier. A positive side-effect: With just one carrier system for all platines also reduces the effort required for warehousing. A factor that should not be underestimated in any production operation!
A brief summary for you:
With our new Universal PCB Carrier there is now only one carrier for PCBs in various shapes and sizes.
This eliminates storage and manufacturing costs for many different types of PCBs.
Expensive layout changes belongs to the past or are from now on also possible during the design phase without exorbitant additional costs.
And best of all, the test phase can be started or continued immediately without delay.
The Universal PCB Carrier for Condor Flying Probe will be available from November 2019.