News
News Events Webinars
FailSim Module webinar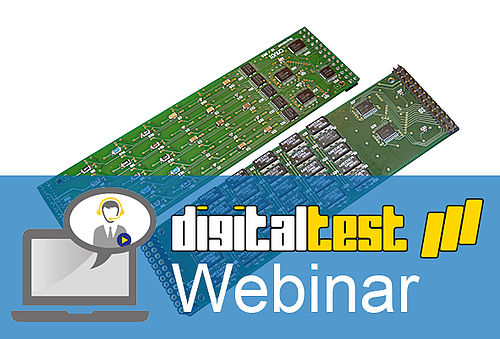 How can you verify a test program? Find out what your test actually covers.
Are you sure that your test program tests accurately? Typically, faulty components are detected on a device under test during debugging. However, if only one component value is recorded with incorrect measurement parameters, this can easily lead to "incorrect measurements", which may never fail during the test. Environmental effects such as coupled interference from other devices (e.g. through cable connections) can also lead to "fake tests", so that the test quality is no longer guaranteed.
How do you prevent this? How can you check and guarantee the test quality and how do you recognize "fake tests"? With the FailSim tool from Digitaltest you can solve this problem for analog In-Circuit test. Learn how you can automatically check your test program with our FailSim tool. How it can significantly increase test quality and thereby improve quality assurance by helping the user to verify the test program.
Learn more about this hardware failure simulation in our FailSim webinar.
The FailSim webinar will take place on 29th April at
02.00 PM - 03.00 PM MESZ (register here)