News
News Events Exhibitions
Success at IPC APEX Expo in San Diego, California, USA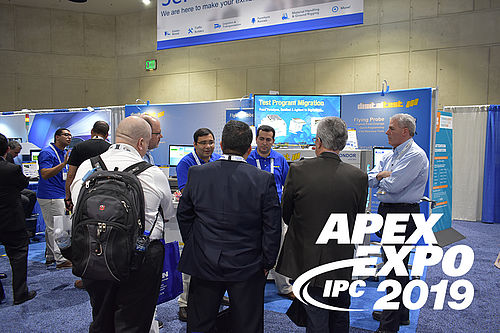 This year's IPC APEX Expo in San Diego was once again a great success. The Digitaltest team was represented in San Diego, California, USA from January 29-31, 2019. Over the course of three great exhibition days, interesting contacts, and discussions were made and had at our stand, which was always busy.
From January 29-31, 2019, interested visitors were able to experience the advantages of a simple, cost-effective fixture with the combination of the Condor flying probe tester live for the first time at the trade fair. Some people were surprised: Why use a fixture for a test system that can test without one? But the reduced test time and the options of extensive functional testing, programming, and flashing on one single test station demonstrated the clear advantages.
In addition, our smallest test system, the Sparrow MTS 30, was the smallest and most powerful test system at the show. Measuring just 19", it fits into any standard rack and can test up to 1,152 networks, making it the most powerful compact system on the test system market. At the fair we showed a fixture with our partner INGUN.
At the Digitaltest booth, visitors were able found extensive information about parallel testing with the Lambda edition of Digitaltest. The software is divided into the actual test programs and a coordinator, which controls the parallel running tests. With one PC and two test heads, the cycle time of the test station can be halved or with a four-head system reduced to a quarter of the sequential test time. This was particularly interesting for those who test in-use.
The interest in solutions for the conversion of test programs and fixtures increases significantly with the age of the existing systems. Digitaltest was really able to score some points here with the simple, cost-effective conversion of existing test programs and fixtures. We offer this service for all older Digitaltest systems and third-party systems from numerous manufacturers, such as GenRad, Teradyne, Agilent (HP), Schlumberger, Marconi, Rohde & Schwarz, or Tescon.
There was a lot of enthusiasm for the new software innovation Fault Image Browser, which is part of the Paperless Repair Software QMAN from Digitaltest. A camera connected to the PC takes pictures of found faults. Photos of board faults, defective components, or successful repairs, for example, can be taken, saved, and then evaluated. The software helps all common test systems to repair faster and to observe and evaluate the manufacturing process. This QMAN function can help customers to better visualize recognized defects, especially in wage tests. It supports the repair process and enables the successful repair to be documented photographically.
We would like to thank all visitors again and look forward to all the new collaboration.