News
News Test Systems
Our Condor celebrates its birthday!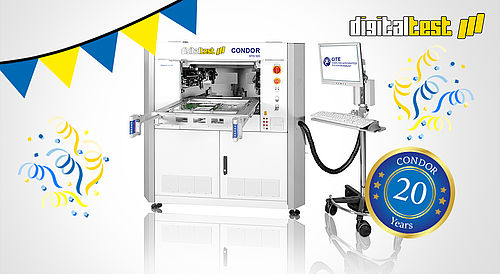 What was created in a small building not far from today's company building is now an international success. Despite continuous further development and technical progress, many of the first models are still in use today.
Why is that? The advantages are obvious. In the past, the Flying Probe test system initially replaced the classic in-circuit test systems primarily for the use of sample series in production (NPI). Nowadays, a flying prober coupled with simple, cost-effective fixtures can represent an economical alternative to the classic ICT-FKT.
With appropriate fixture concepts, not only can the throughput be increased, but also the test depth, so that today's flying probers can also be used economically in series production. The advantages of the prompt applicability for prototype type tests, the use in sample series, and the simple program adaptation for layout changes cannot be achieved with any other electrical procedure.
This flexibility, coupled with the shortened test time by simple fixtures, makes the Condor particularly attractive. In our fast-moving world with many technical changes, a Flying Probe test system pays for itself much faster than before and is an investment for life due to its robustness.