News
News Company
Why Condor Flying Probe?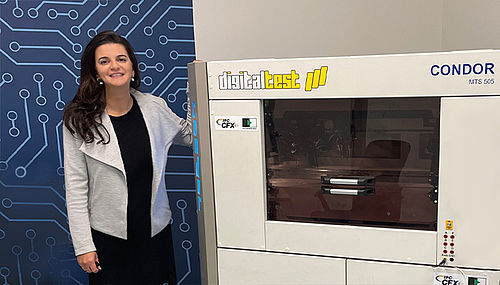 Find out all the advantages of the Condor Flying Probe and what makes it so special in our interview with Sarah Boctor-Vauvert, CEO of Digitaltest Inc., California, USA.
For which test strategy is the Digitaltest Condor Flying Probe from Digitaltest used?
The Condor Flying Probe can be used universally for all test strategies! You can put together your own individual one-stop strategy from the various test methods as well as the analogue, digital, functional in-circuit test as well as the boundary scan, flash programming and LED test. This means that with this one production stop, all test methods can be performed on this one Condor Flying Probe station. Our Condor is available inline with a conveyor or also as a front loader for simple manual loading.
What makes the Condor Flying Prober so special?
There are many things, but the basic one is the movement of the test heads. When my father started prototyping 20 years ago, he knew we had to develop a system that didn't exist yet. And he did. Even then, Digitaltest decided against guide rails on only one axis. With almost all Flying Probes, the test heads move on fixed axes. This means that with several heads in one system, they are enormously limited. To reach a certain position, all heads have to be retracted to make room for the one head to move to that position. With the Condor Flying Probe, we have no restriction on movement because our test heads really "fly" on a cushion of air with multi-axis linear movements. Each head can fly autonomously to its target position to be tested. The heads move smoothly on air cushions and this guarantees a maintenance-free system.
Isn't such an axle system faster?
No, it isn't. It seems to be, but it is not. While the individual movements are faster, there are many "unnecessary" movements, precisely because of the axis guidance. You test component by component, which means there is a movement for every component on the board.
We have a so-called "optimizer" that uses intelligent algorithms and the hardware measurement functions to calculate the optimal measurement method. You can think of the optimiser as a GPS for the test. It calculates the fastest test route for the different test positions. We can therefore perform several measurements at a test position, the number always depends on the position of the components in the circuit. In addition, this number can be increased if magnetic fix pins from the bottom are applied, which again drastically reduces the total test time. With the Condor, we achieve the highest coverage with minimal programming and calculations, as well as reaching any point on the board with minimal distance travel.
Can the Condor Flying Probe test on both sides?
Yes, it can. It has four movable heads that make contact from above. From below, there is the option of using magnetic fix pins or contacting the underside of the board with a simple, inexpensive fixture. This saves testing time and complex function tests and programming can also be covered here.
Fixture in the Flying Probe? Isn't that the reason for getting a Flying Probe, to save fixture costs for ICT?
That is correct in principle. In the past, the Flying Probe was also mainly used for tests of small quantities and for prototypes, and no fixtures were needed for these. But that has changed today. Our Condor Flying Probe is also used in medium-sized to huge inline productions and, to speed up the test, fixtures are used here.
I am talking about simple, inexpensive fixtures that we make by ourselves. With the help of simple fixtures and our conveyor table, which can be adjusted to the millimetre, we can even test fixtures in 2 levels. These are so-called dual-level fixtures, which we also make in-house. The low-cost fixtures are worthwhile because they drastically reduce testing time and can cover functional tests that others simply cannot. Our Condor Flying Probe is appreciated by our users because it is so universal and can be adapted to new test requirements in a production.
What is another important advantage of the Condor Flying Prober from Digitaltest?
Our measurement capabilities surpass other Flying Probers on the market in terms of quality, accuracy and stability of measurements. We have a powerful universal module, the "Analog Measurement Unit (AMU)", in all our test systems, the so-called heart of our systems. Our AMU05 has a wide range of functions and guarantees the most precise measurement of components. With this powerful core and additional modules, the so-called "active heads" in each of our test heads, which amplify the measurement, our users experience a stability and accuracy of the measurements that even surpasses the results of a nail of bed test.