News
News Software
Digitaltest is increasing Test Capabilities and Test Coverage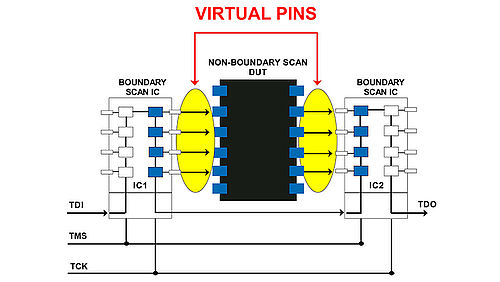 It all started with a project from a new prospect that we simply did not want to turn away. We tried to accommodate beyond our capabilities, and it ended up that we now provide new testing methods.
The Challenge
The Printed Circuit Board (PCB) was densely populated, and some test points were simply not accessible with fixture pins, because it was not even visible to the naked eye. In addition, the Device Under Test (DUT) included a Boundary Scan microchip that needed to be tested. To provide the best possible test coverage, we needed to provide an optimal mix of tests such as In-Circuit-, Functional- and Boundary Scan Tests in this application. We knew if we had to include Boundary Scan equipment from an outside supplier, we might lose this prospect, due to adding a high cost for buying external Boundary Scan hardware and software.
The Solution
To avoid this one of our engineers explored the idea to use our own test system capabilities to perform Boundary Scan test. In addition to increase our test coverage by controlling the boundary scan-enabled component, by using the same standardized diagnostic protocol we have with our In-Circuit test (ICT).
Using the same ability to drive and receive data using the Boundary Scan cell we can stimulate the functionality of the Non-Boundary Scan Device by driving the appropriate stimulus in the Non-Boundary Scan component and detecting its outputs. It is as if we have our own test drivers and receivers built in the Integrated Circuits (ICs) themselves.
With a lot of brainstorming and research our engineers were able to drastically increase test coverage without adding any extra cost of external devices and overcome the problem of no accessible test points.
The Conclusion: "Virtual Pins"
By simply using the current capabilities of our own test system, we were able to control Boundary Scan components via simple commands from our User Interface (UI). We were able to perform tests via a virtual pin being placed between a Boundary Scan component and a non-boundary scan component directly surrounding it. With this concept even the smallest PCBs with limited test access, densely populated with tiny components can be tested easily.
The Bottom Line
We believe the best possible test coverage can be reached by combining different test methods together. With over 40 years of experience in testing PCBs and creating test systems, we take pride in advising electronic manufacturers with the best possible test coverage for their application. We are determined to make things work, when it looks like there is only one way, we are determined to "engineer another way" to find an alternative solution to a problem.